Come join our dojo.
Sign up now for a free trial class. See link below!

Our Dojo

Our dojo is located in a sports centre in the heart of Frederiksberg, a municipality completely surrounded by Copenhagen. It is about 1,2 miles from Copenhagen Central Station.
We are a small, non-commercial club. Our goal is to preserve the aikido that we have been fortunate enough to have received from Doshu Moriteru Ueshiba and the late Morihiro Saito Sensei. We strive to provide a safe environment, a focused atmosphere, and enjoyable training. Our class schedule has been arranged to fit the busy lives of today's active men and women. We study budo - Japanese traditional martial arts, or self-defence in its wider sense, from physical locks and throws, dealing with grabs and strikes, and learning about posture, balance, and coordination, to exploring the qualities of calmness, assertiveness, awareness, and compassion. We learn how the mind and body can work together effectively, both in and outside the dojo.
About our aikido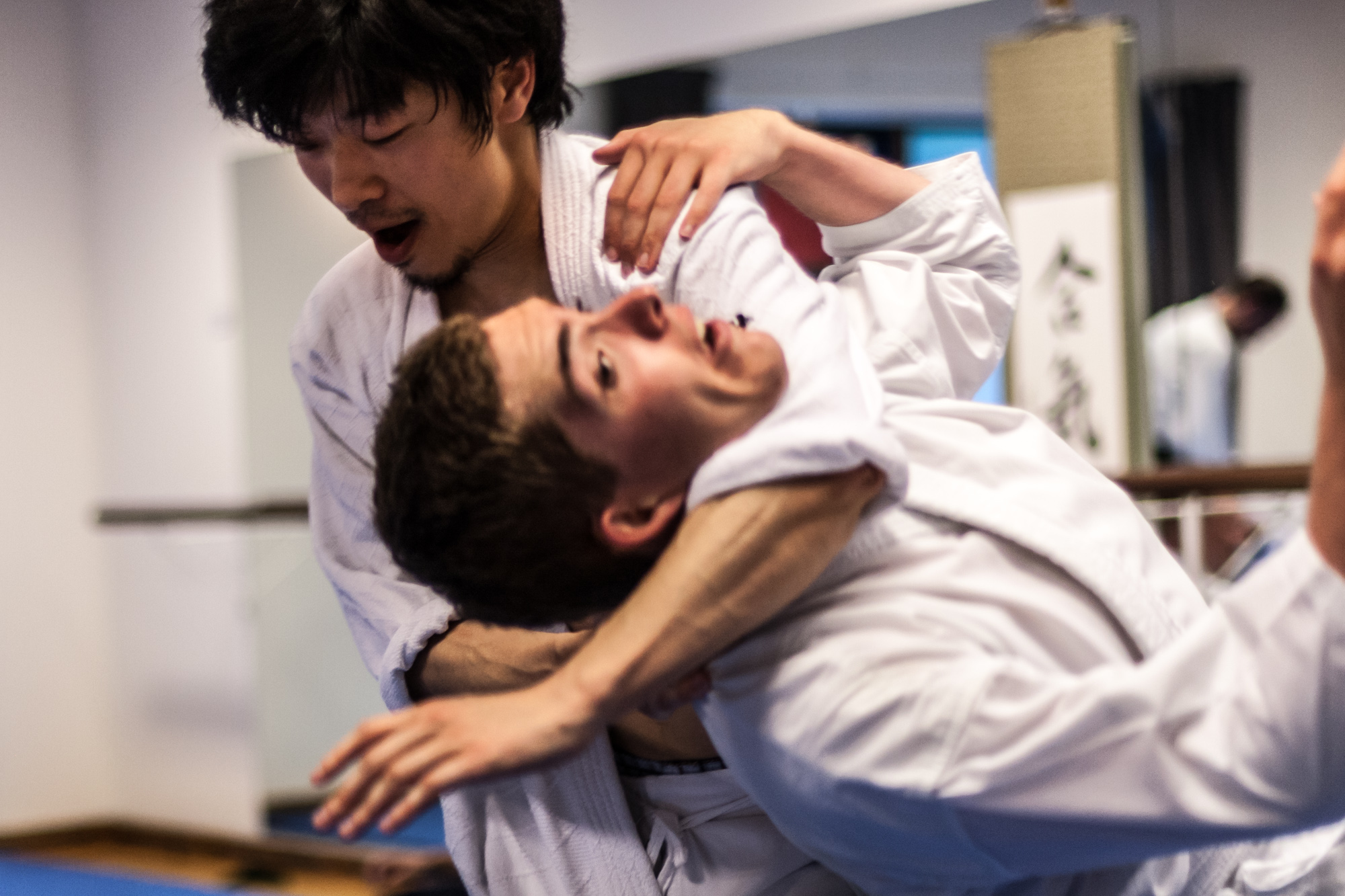 Morihei Ueshiba, the founder of Aikido, studied and pursued the ultimate teachings of various traditional Japanese martial arts. Based on this, and combined with strict spiritual training, he created aikido in the 1920s as a means to train the mind and body. Morihei Ueshiba was able to overcome the concept of the other as an opponent and instead attain the ideal of becoming one with the "universe". In this way, aikido embodies the founder´s philosophy and can be differentiated from other martial arts.
The movement in aikido have both gentleness and sharpness. This movement is derived from Irimi (entering) and Enten (circular motion) While aikido makes use of complicated joint locks, throwing and pinning techniques are characteristic. With repetitive practice of the techniques we can reach the goal of developing our minds and bodies together. There are no age or gender limitations to practice aikido. Everyone can practice, depending on each person's individual capacity. Our martial art is a bujutsu - it is very extensive, and therefore it is difficult to encapsulate its practices in just a few sentences, but we can say that it is considered both hard and soft, a both mental and very physical discipline.
Our training will consist of unarmed and armed personal combat techniques as taught in Japan. Our martial art is truly martial in that it is based on centuries old, combat-tested techniques. We are not a sport martial art, nor do we compete in tournaments or match-type competitions. While this sounds very serious, and indeed it is, we are also here to have fun, improve ourselves, learn from each other, and find ways to live our lives without fear. In Aikido, the concept of "wa" (harmony) is important. The meaning of wa is harmony of the spirit and body. Practice is not a contest between adversaries, but instead a harmonious partnership for making progress and advancement.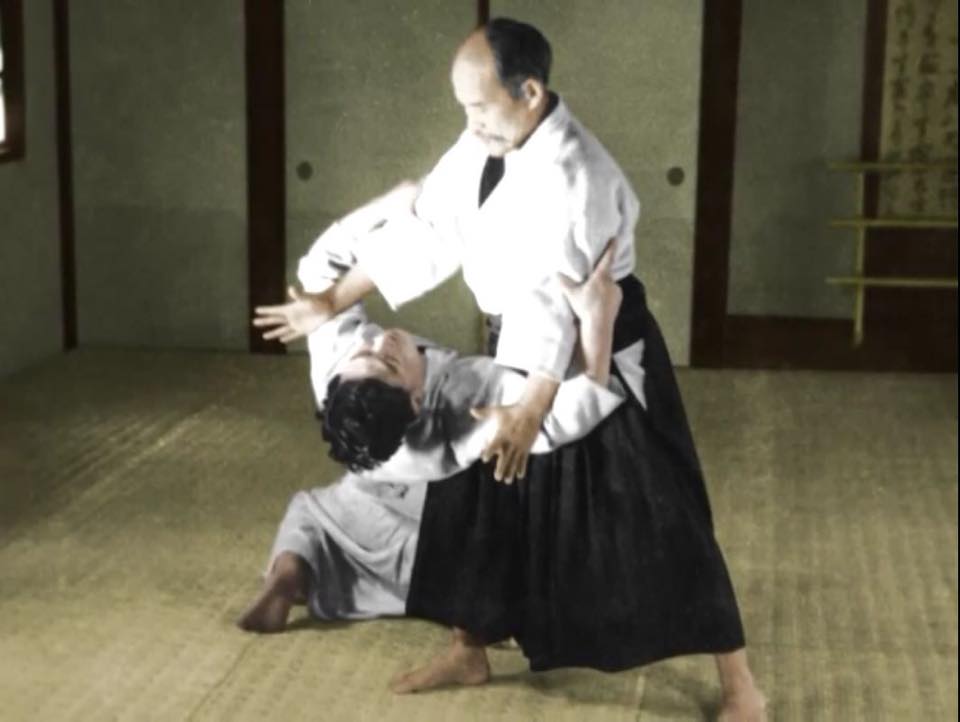 The aikido practiced at Frederiksberg Aikido Club is somewhat eclectic in style, reflecting our influence by Doshu Moriteru Ueshiba and the late Morihiro Saito Sensei. Our basic techniques show a definite Morihiro Saito Sensei influence. This is a highly structured system, ideal for beginners, with much emphasis on posture (kamae), strong, centred body movement and forceful direct atemi. Alongside the basics we also teach techniques that are heavily influenced by Doshu Moriteru Ueshiba, with a greater emphasis on circularity and fluidity of movement, including a wide range of kokyu nage which provide excellent training in timing, blending of force, tai sabaki and the use of breath power (kokyu).
Although aikido's basic movements are relatively simple and based on natural body alignments, some of the techniques appear quite complex to the beginner. This means only that the student must learn to be patient with him- or herself. In Aikido the process of learning is just as important and valuable as the end result of mastery of techniques. In our dojo it is necessary to respect the way in which the instructor of the class directs the training. Receive instruction and carry out suggestions for training sincerely and to the best of your ability. There is no room for argument on the mat. It is the moral responsibility of each student never to use aikido technique to harm another person or as a way to display his or her ego. It is a tool to develop a better society through individual character development.
The strength of Aikido is not in muscular force, but in flexibility, timing, control, and modesty. Be aware of your limitations. Everyone has different physical abilities and reasons for study. These must be respected. True aikido is the proper and flexible application of techniques appropriate to any changing situation. It is your responsibility to cause no injury to your training partner or yourself.
Children's Aikido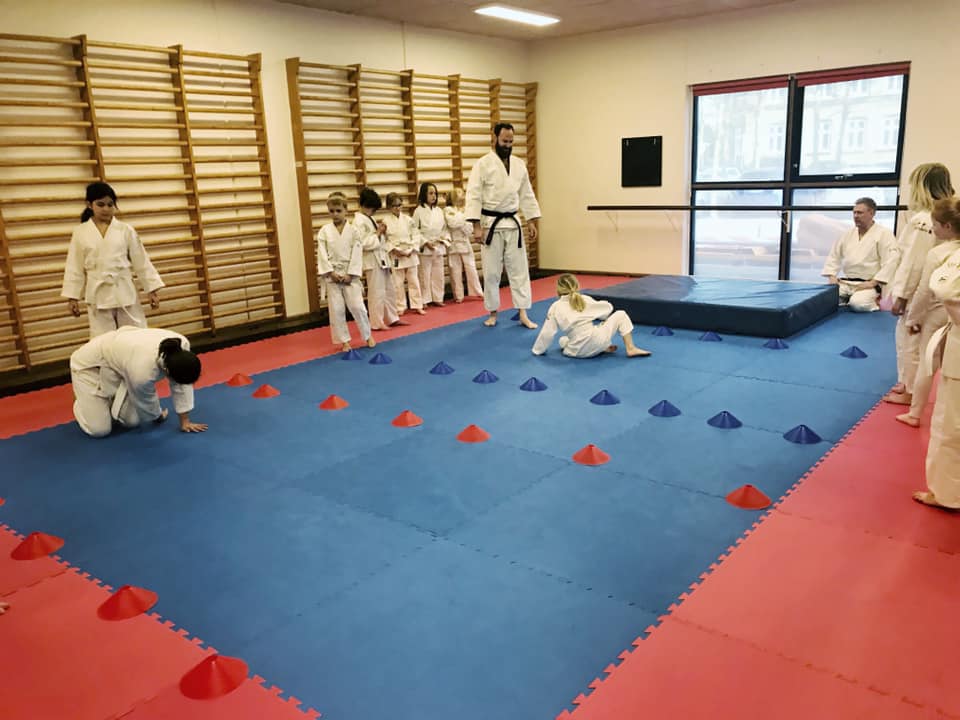 The traditional Japanese martial art of Aikido is taught to children at Frederiksberg Aikido Dojoin the spirit in which O Sensei its founder intended, in a non-competitive, friendly atmosphere of cooperation and mutual respect. The gentle, flowing movements of the self-defense techniques in Aikido emphasize the use of leverage and blending rather than force and strength. As a result, this philosophy of non-violence and compassion in Aikido training helps in the development of a positive self-image, promotes self-esteem, and builds strong character and confidence in children.
Proper dojo etiquette is taught and classes are conducted in a safe, structured, focused and fun environment. Children's classes consist of stretching, warm-up and conditioning exercises, basic techniques and Aikido related games. The physical conditioning benefits of Aikido training for children includes improved balance, flexibility, coordination, and strength. Children learn how to roll and fall safely, as well as how to practice with their partner in a cooperative, kind and caring manner with an emphasis on teamwork and positive attitude. You and your children are always welcome to observe any class at Frederiksberg Aikido Dojo. Please visit us during class hours and feel free to speak with instructors and our community of parents, children and adult students.
Children's classes are Sunday at 10:00pm.

Sign up for children here (Opens a new window)


Our Sensei´s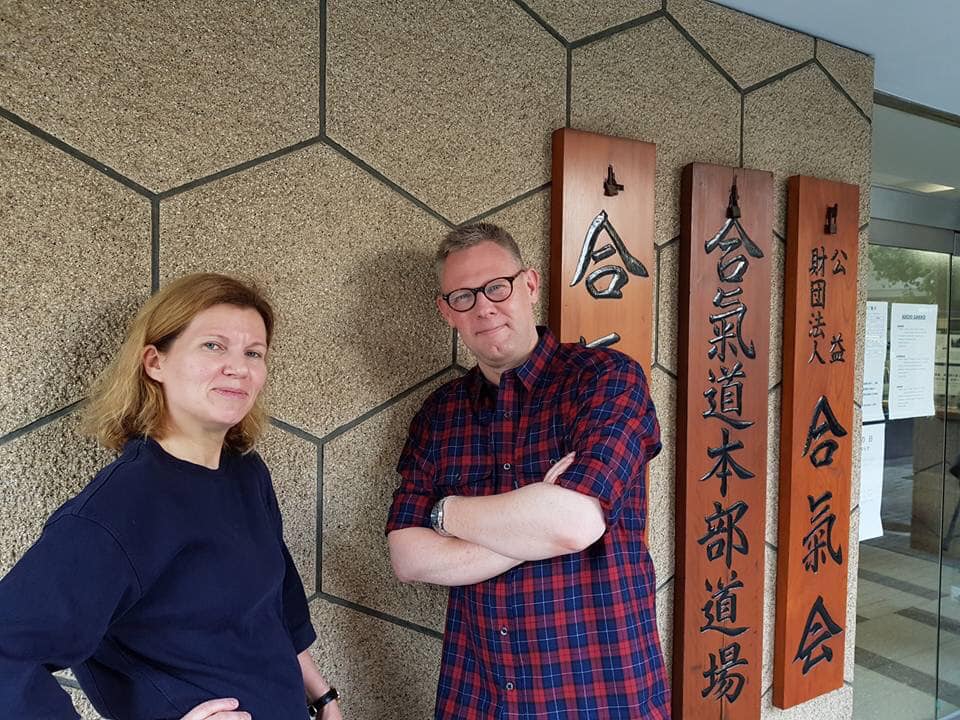 Our Senseis, Lene Martine Grotkjaer and Thomas Wessel Hansen, have lived and trained in Japan several times and currently holds the rank of Rokudan (6th dan black belt) recognised by Aikikai Hombu Dojo, Tokyo. They both have the title Shidoin, which means they have an approved authorization as aikido instructors from the Hombu Dojo and the Danish Aikido Federation. In the early nineties, our teachers were committed to aikido training in the famous "Iwama Dojo" of Aikido's founder, O-Sensei, and trained solely under the guidance of the late Morihiro Saito Sensei as "uchideshi" (live-in apprentice).
Thomas Sensei has trained martial arts since 1974, first judo and later jiu-jitsu. Lene Sensei had many years' experience in gymnastics before she started training martial arts. Today, Selene is the highest ranked woman in Denmark within Takemusu Aikido and a member of the national graduation committee. Thomas is in the board of directors in the Danish Aikido Federation. They both have many years of teaching experience in aikido and take great pride in their jobs. They spend a great deal of time preparing the dojo and planning lessons to ensure that our members will have memorable learning experiences!
After the death of Morihiro Saito Sensei in 2002, Lene Sensei and Thomas Sensei are now direct students of Doshu Moriteru Ueshiba, the grandson of O-Sensei Morihei Ueshiba. They are quite possibly the first ever to introduce the teachings of the third doshu in Denmark. They travel frequently to Japan as sotodeshi (regular students who live outside the dojo) to practice in Hombu Dojo under the guidance of Doshu. They are some of the only Danes to have participated in the All Japan Aikido Embukai in Budokan, Tokyo, hosted by Doshu and the Aikikai Foundation.
Philosophy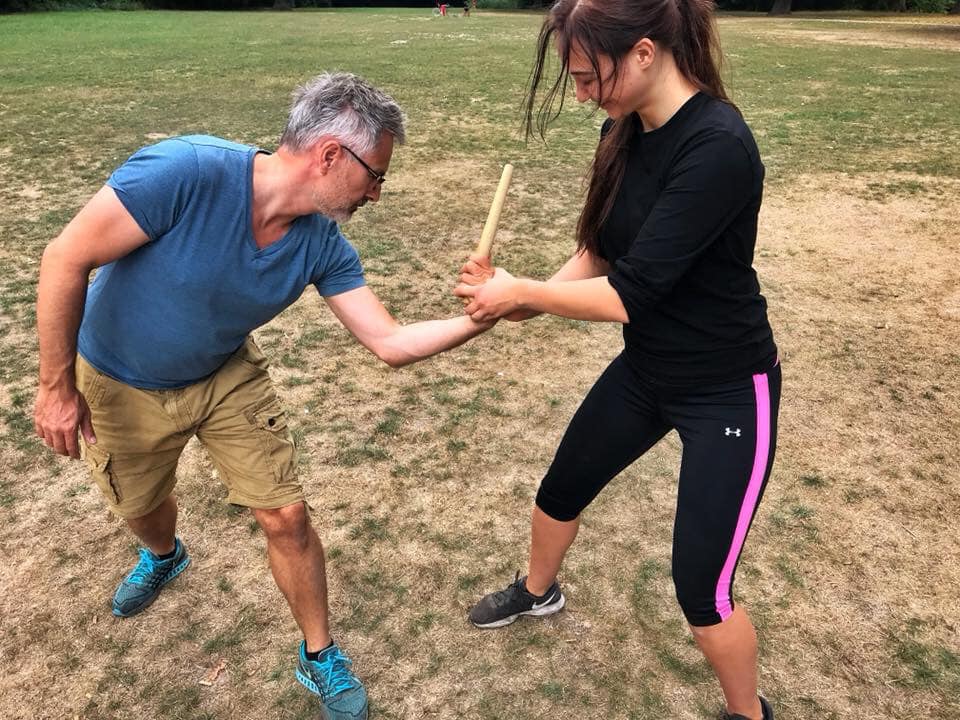 Because our philosophy is based on the traditional, non-competitive martial arts, beginners, intermediate and advanced students are encouraged to develop at their own pace. At our dojo, we consider our students' self-development far more important than achieving high ranks. We understand how intimidating it can be to start a new activity and have structured our classes so that beginners can work comfortably together with intermediate and advanced students. Instead of paying for individual lessons, students pay a monthly membership. All students assist in the maintenance of the dojo. We pride ourselves on maintaining the dojo - not only as a place for serious aikido training and discipline - but also as a place with a sense of belonging and concern for each other. All new students have a three-month trial period, before they are fully accepted as members of our dojo. This is to assure that everybody contributes to the training, camaraderie and dojo culture. We will not hesitate to exclude any members who do not act in accordance with our traditions.
Visiting our Dojo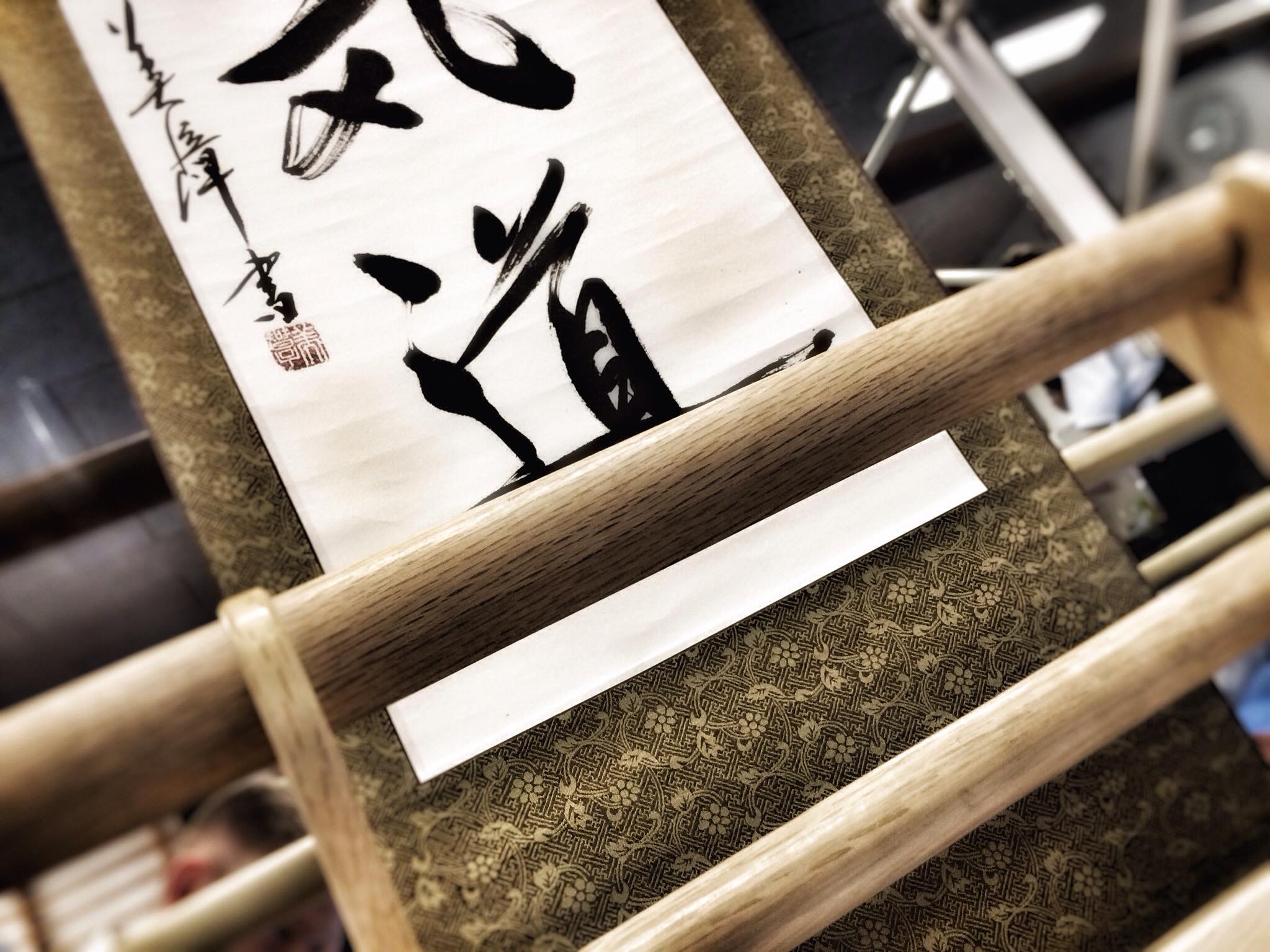 Frederiksberg Aikido Club welcomes all visitors to any of our classes. Classes are held three times a week. Please feel free to come watch any of our classes. We would appreciate that you contact us before visiting. It costs nothing to come and train with us for a single day. If you come more than once, we will gratefully accept a donation to our Dojo of 50 DKK. Our dojo is located in Bülowsvejhallen, just 1,6 km from Copenhagen Central Station. If you use the Metro, get of at "Forum" and from there it is a five-minute walk to the dojo. Tourists or students from abroad should have no language problem during our classes. We all speak English, and many speak German, French, or other languages. However, lessons are conducted in Danish! All necessary requirements for entering Denmark (visa, lodging etc.) are the sole responsibility of the individual.
We are affiliated with the Aikido World Headquarters in Tokyo, Japan. Long-time students from abroad studying or working here in Denmark need to authenticate their grade from 3rd kyu and yudansha grade. Only yudansha (black belt) grades issued from the Aikikai organisation are recognised. Please bring a photocopy of your certificate or Aiki-passport on registration. Make sure to have adequate medical insurance during training. For any further information, please send an e-mail to our Dojo Cho. Click here for contact.

Basics requirements for attending our classes
Since our website primarily are in Danish please let us explain some basics requirements for attending our classes. Our dojo is primarily subject to a Japanese etiquette.

First of all! Dont be late for your class!
It is important to realize that Aikido is a martial art and that training is therefore physically demanding. As a beginner, however, there are no special physical requirements other than that health, physique and motor skills must be generally good.
But even with the lowest common denominator, it is important to mention that it is hard to practice aikido. The body must be able to withstand the training and one must be receptive to instruction.
When you start you can train in simple training pants and preferably an old t-shirt. Doesn't matter if it is with long or short sleeves. Just pop in the dojo (our first class are probably still going) wait on the bench and probably a senior member will guide you to the locker room if you haven't found it yourself. Please bring all your belongings to the dojo and place it under the bench.

We are all neutral in our appearance in the dojo. This means no jewelry or piercings showing. Nor are headscarves or similar clothing that might compromise our safety in training. For both men and women nail polish and makeup are not allowed.
Our address:
Frederiksberg Aikido Klub
Bülowsvejhallen, Lille Hal. Bülowsvej 34
1962 Frederiksberg C
Registration and enrolling:

You can get a free trial lesson every monday and wednesday. Please write to our Sensei responsible for beginners at Click here for contact if you are interested. The initial registration period for beginners is 3 months and costs 650 DKK, including an annual DAF membership fee of 50 DKK. Training fees cover our costs for aikido training and facilities. The membership fee is payable regardless of whether you train or not. All instructors and club executive members are unpaid volunteers who donate their time and effort for free.
Download our membership form here!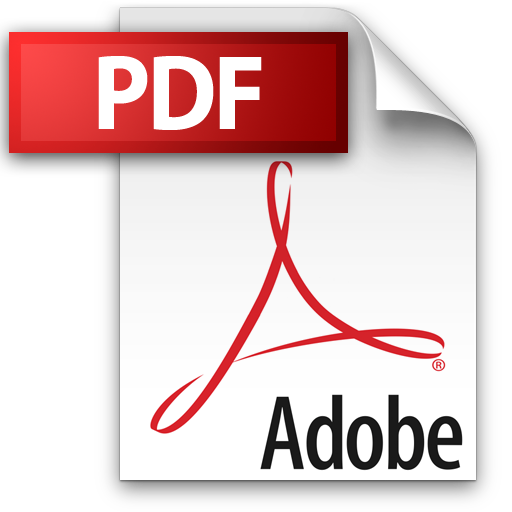 Please contact your sensei for further information.

Please make sure you read our English FAQ and dojo etiquette
Click here to download the PDF file for FAQ.
Click here to download the PDF file for dojo rules and etiquette.
Click here to read what some of the members have said about training in our dojo.

The history of Frederiksberg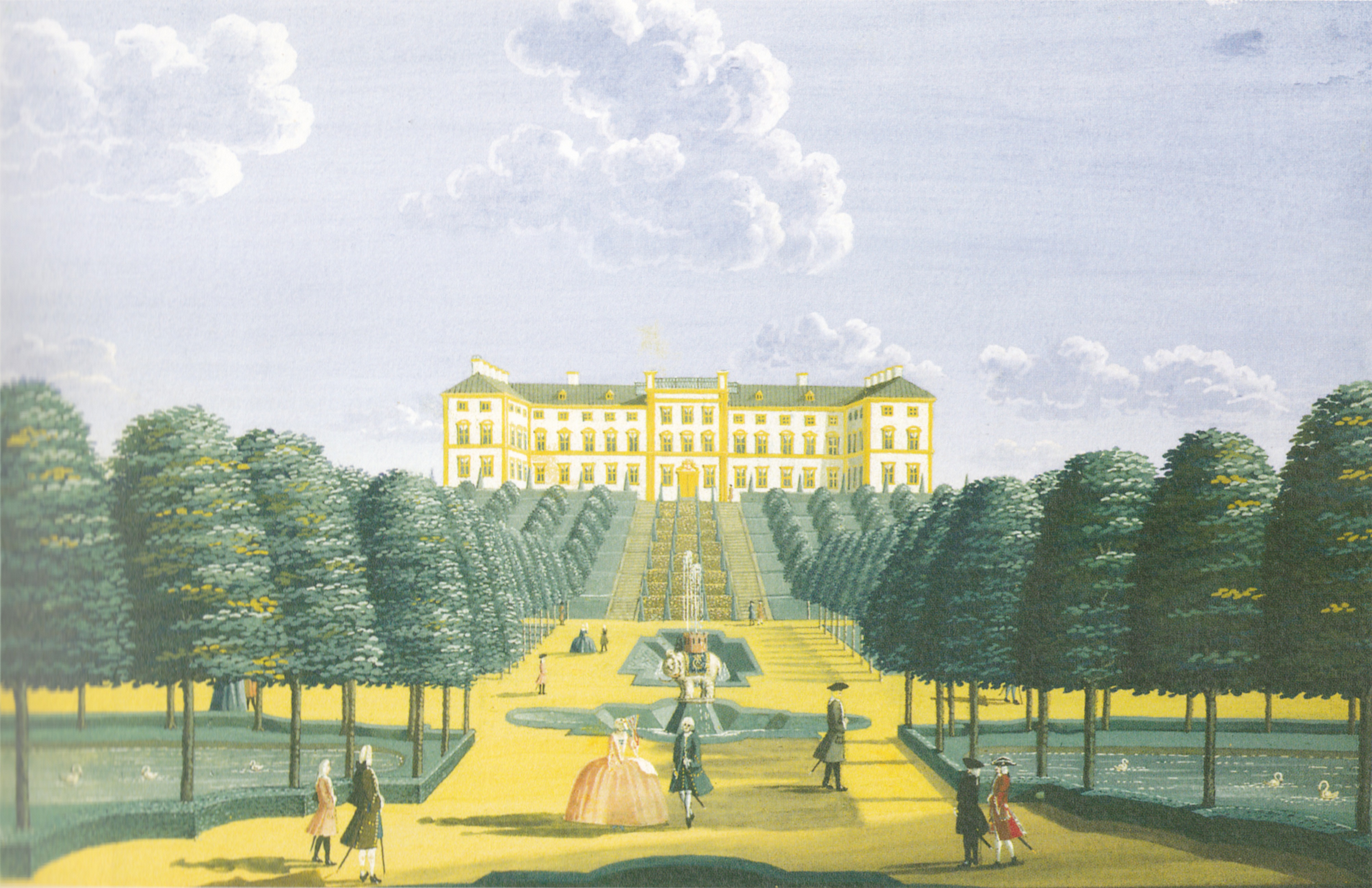 We do not know much about the first people living in the area which is today the municipality of Frederiksberg, but we know that people have lived here back in the Bronze Age, i.e. about 3,000 years ago. From this period we know of five barrows, and in the name "Solbjerg" (Hill of the Sun), the former name of Frederiksberg, we may have a trace of the worship of the sun which they practiced in the Bronze Age. Maybe the all-powerful sun god was worshipped from the top of the hill.
Frederiksberg is a municipality and located as an enclave within the municipality of Copenhagen, the national capital. The municipality was originally situated west of Copenhagen, but after a number of smaller municipalities were merged with Copenhagen in 1901, it became completely surrounded by Copenhagen. With a population of 95,029 in 2009, it is the fifth largest Danish city after Copenhagen, Århus, Odense and Aalborg. Frederiksberg is home of the Faculty of Science, Denmark's largest science research and education institution with 3,400 employees and 9,000 BSc and MSc students and the CBS (Copenhagen Business School) that has 18,000 students and an annual intake of 1,500 exchange students. Frederiksberg is also the host of the Copenhagen Zoo and from Frederiksberg Garden, you can see elephants walking around in their enclosure.
In 1651, King Frederik III gave peasants the rights to settle all round Allégade in Ny Hollænderby (New Dutchman-town), one of the major avenues in Frederiksberg today. Farming was not very successful, and in 1697 most of the town burned down. This meant that the peasants were unable to pay taxes, and the land reverted to the crown.
In 1699 King Friederich (Frederik) IV decided to build a palace on top of the hill today known as Frederiksberg Bakke, which would be his own "Danish Versailles." He named the palace Friederichs Berg ("Frederik's Hill") and the two rural villages Solbjerg and Ny Hollænderby at the foot of the hill changed their names to Frederiksberg. Around the castle, two huge gardens, Søndermarken and Frederiksberg Have, were laid out in the French Baroque. The town changed slowly from a farming community to a merchant town with craftsmen and merchants. During summer, rooms were offered for rent and restaurants served food to the people of Copenhagen who had left the cramped city for the open land, and to be near the royals.
Back then, Frederiksberg was approximately five kilometres outside the ramparts of the old city of Copenhagen. Not far from Copenhagen with today's transportation, but for the king and his court, it could easily be a day's journey when he moved from Copenhagen Castle to the palace of Frederiksberg during summer.
A number of the houses in the town were bought by wealthy citizens of Copenhagen who didn't farm the land, but rather used them as country houses. Today the city consists entirely of three- to five-story residential houses, large single-family homes, and large parks. On aerial pictures, Frederiksberg stands out from the surrounding city of Copenhagen as a green area with few large roads. It is considered to be one of Copenhagen's more prestigious areas in which to live.
Frederiksberg was given its local self-government in 1858, and it rapidly began to grow in population. From 1919, the authority appointed its own mayor and city council. Today the City of Frederiksberg is a modern, metropolitan local authority with the characteristics of a major city. The citys many parks and leisure facilities provide the capital with a green oasis characterised by a special, historic charm.